About
About ProjectAccept.org
ProjectAccept.org aspires to become the primary voice and vehicle of those affected by persistent viral STDs worldwide, including HBV, HCV, HIV, HPV & HSV.  The reason for this is simple: united, those impacted by persistent viral STDs represent one of the largest, most powerful organizations on earth.  Divided and isolated, as they are now, they make very little impact on the social stigma regarding these viruses or the cures for the viruses themselves.
We do not believe in discrimination between virus types.  In fact, we see the discrimination between them – particularly by fellow STD-affected – as concrete evidence of the enormity of the social stigma and the challenges ahead.
Our Vision:
There are untold billions of people on earth affected by persistent viral STDs: HBV, HCV, HIV, HPV & HSV.  Combined and organized, they could make a far greater impact on both the social stigma surrounding STDs and the accelerated research for cures.
Our Mission:
To gather together all individuals and groups affected by STDs into one social movement; to organize and empower the community in order to fund ProjectAccept.org which will combat STDs on the following fronts:
Awareness: To raise public awareness of both the present and the potential impact of STDs on the uninfected and their loved ones
Acceptance: To combat the stigma surrounding STDs: to make life for the affected easier, while fighting the spread of the viruses through more open conversation and understanding
Virus Research: To combat the disease(s) medically, through independent cure research
Our Timeline: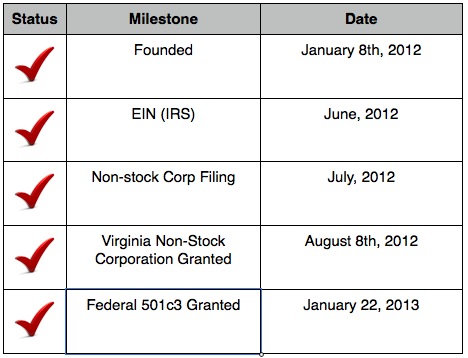 Our Guiding Principles
Five guiding principles have directed ProjectAccept.org in its quest to declare checkmate on STDs:
Integrity – Awareness of the great trust constituents place in us as stewards of the funds they raise and as partners with them in the fight against STDs – guides us every day.
Efficiency – A commitment to always operate in the most cost-effective manner possible so that the greatest number of dollars raised goes directly to fund our campaigns and ultimately, to fund cure research.
Transparency – A pledge to be completely open with our volunteers, understanding that it is only through their support of ProjectAccept.org that we are able to continue our vital mission.
Pioneering Spirit – Taking unique approaches to fundraising that are bold and innovative including the support and development of symbiotic relationships with benefactors.
Sense of Fun – An experience that is both rewarding and fun, that will inspire people to come back to again and again, uniting to have a great time while supporting a very serious cause.
We Invite You to Join Us!
Whether you are one of the many who have already contracted a virus, or one of the many more who might, we invite you to help us help you.  Only together, in a united effort and with effective communication, can humanity declare checkmate on STDs.   Please consider joining the fight today.