Support ProjectAccept.org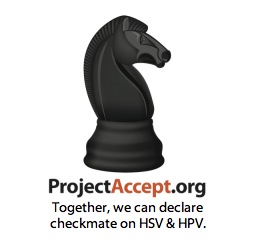 Why support ProjectAccept.org?
ProjectAccept is the only non-profit dedicated to educating the public in regard to HSV & HPV and to eliminating the viruses themselves.
These are not the problems of individuals; they are the problems of all of society.  Up to 90% of the population, including you,  will contract HSV in their lifetime.  When you add in the over 50% who contract HPV and the remainder of the viruses, you are very close to 100% of the population.  As we eliminate the sexual stigma of these viruses – many transmissions occur non-sexually – we can increase education, communications and understanding among the population and slow the viruses to a crawl, while we continue to push for cure research.
The Herpesviruses and Papillomaviruses have many things in common, on the microbiology level: once we can cure one, we will soon cure them all.
In order to accomplish these goals, ProjectAccept.org uses a unique, 3-pronged approach:
Raise Awareness
By educating the public on the reality of the sheer prevalence of these viruses, we can greatly reduce the stigma and help to slow the proliferation.
Increase Acceptance
By educating the masses, we can finally develop acceptance of the viruses as medical conditions to be discussed, rather than scarlet letters not to be discussed, easing isolation and greatly reducing the rates of transmission.
Fund Independent Cure Research
By funding independent cure research, can we ensure that cures will come sooner and be more affordable by all.
---
90%+ of adults worldwide are affected by HPV and/or HSV. Isn't it time we all banded together to do something about it?
If that figure alarms you, it should. It should also prove to you how terribly naive people are about Herpes and HPV. To compound the problem, nobody ever learns anything about them because everyone is so incredibly reticent to discuss them. Whether we are personally infected, we are completely surrounded by people with these viruses, yet they are totally unaware. Instead, they hide them from others, which only serves to help the viruses proliferate even further. The very reason they've gotten this far is because of the stigma. If we can eliminate the stigma and educate the public, we can greatly reduce the spread while we search for cures.
Help us help you; help us help your friends, your family and loved ones; help us before you need our help yourself. Supporting ProjectAccept.org means only that you recognize an enormous medical issue facing society and that you believe something should be done about it.
ProjectAccept.org is a 100% volunteer-run organization.
Please do your part today.  Together, we can make a difference!
To donate to the ProjectAccept.org click here:
ProjectAccept.org is a Registered 501(c)(3) Non-Profit Corporation.
A Herpes Simplex Charity
HSV, HPV, Herpes, Genital Herpes (Herpes Ganitalis), Oral Herpes (Herpes Labialis) Cervical Cancer, Herpes Meningitis, Herpes Encephalitis,  Herpes Keratitis
Herpes Simplex Charity – Human Papillomavirus Charity