Who Gets
HPV

?

Nearly everyone!  While the horror stories abound, it's not as bad as it seems…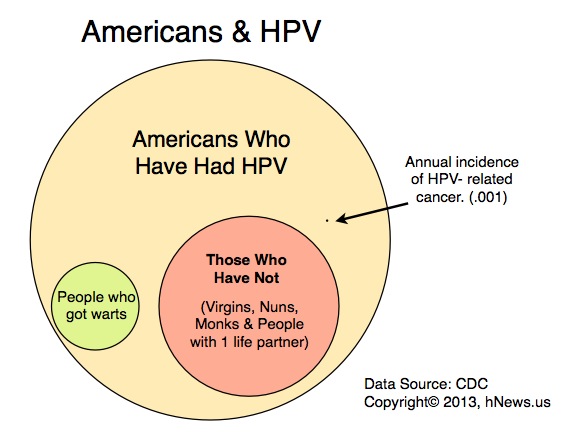 We could have added a circle for those who never get HPV… but nearly everyone does at some point, so we left it out.
While you hear everybody say, "HPV causes cancer!"   It's much better and more truthful to say it this way: "HPV doesn't cause cancer; a tiny portion of HPV causes cancer in a tiny portion of the people who get that particular type"… and barely anyone at all actually dies from it; those days are long gone thanks to early detection.   In addition, there are 150+ types of HPV and only a few have been known to cause any cancer… and just 2 types out of 150+ are responsible for 3/4 of all the cancer cases, so don't let the term "HPV" alone scare you one bit.
It pays to keep in mind that 90% of people who get any type of HPV clear it all by themselves, like a common cold.  It just takes a bit longer to shake.  In the case of HPV, it's cleared within 2 years.
As you probably know, there are vaccines now for HPV.  Whether or not you get one is a personal choice.  Some argue that considering the odds against getting cancer from HPV, they're ok with the risk, while others feel more okay with risking the potential side effects from the vaccine (headaches, dizziness, nausea, etc).  You decide what's best for you.